Old Timey is one of the first characters in the game "Land Sliders" and was released in the main version of the game. Old Timey currently collects gramophones and gives a Sepia color to the game when playing as the character.
Appearance
Old Timey appears to be an old, stout man who is quite jolly and a typical businessman. He has an italian moustache with a goatee and grey hair. He wears a gold monocle and also carries a walking stick. He wears a black suit with gold buttons attached to each side and a red tie. He also wears a white suit to finish off the suit.
Alternate Versions
Gold Version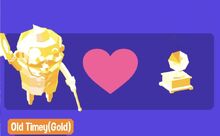 Ad blocker interference detected!
Wikia is a free-to-use site that makes money from advertising. We have a modified experience for viewers using ad blockers

Wikia is not accessible if you've made further modifications. Remove the custom ad blocker rule(s) and the page will load as expected.